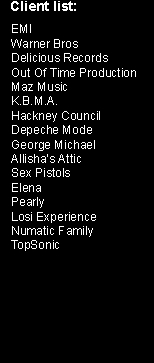 [About Us]




[Saturn Records]




[Studios]

The Label




Saturn Records is a new Indie label dedicated to alternative rock. Please send demos to the address above. Please do not email MP3's.

Live




We supply live engineers/live recording. We have our own backline including: Top of the range in ear monitors, wireless guitar amp mics, drums, guitar and bass amps, multi effects, compressors, limiters, 9 seater tour van, guitar/bass and drum tech and much more.



Film/TV Music:




We can provide a full range of original music, samples, composition for synchronization, for every style across the board. Please email or call us for a copy of our synch showreel.



Session musician and online service.



We can provide you with top professional drummer, guitarist and bass player for live/ studio or on line session. Send us an MP3 of your song/arrangement and or musician will get in touch with you to discuss arrangement a a quote. Check out their profiles

Drummer: Joe Crabtree www.drumsolo.co.uk
Bassist: Midus Guerreiro www.midus.net
Guitarist: Ben Walker www.benwalkermusic.co.uk

We can also provide string players and arrangers / keyboardist.



Marketing/Video production



Saturn Music Groups works with top promo director David Lee and photographer Emma Innocenti to provide full marketing for new and unsigned bands. We can recording, provide you with a professional video, a press photo and a CD cover designed, at a very affordable price. Get in touch with details of your project and we can discuss with you how we can help you getting a professional release.